PVCu French Windows
Our PVCu French windows have all the same great features as our casement windows, but with the added element of a much larger opening area without a fixed mullion. This can provide an elegant solution to the need to meet fire escape regulations where this is a requirement.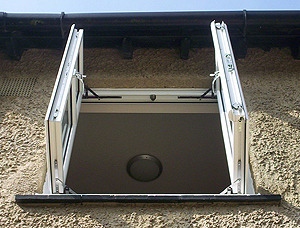 All of our PVCu French windows are manufactured to the highest standard, using top quality components which are subject to rigorous quality checks throughout the manufacturing process.
Roller Bolts
Roller Bolts contract to lock the sash into the opposing keep. Raising the handle by 90° expands the bolts, releasing them from the keep.
Shoot Bolts
The upper and low parts of the locking mechanism contain not only a roller bolt but also shoot bolts that locate in the keeps mounted on the frame.
The combined shoot bolts and roller bolts offer 6-point locking which can be enhanced even further by optional hinge bolts.
Easy Clean Hinges
The hinges not only enable a full 90° opening, but when opened, will slide the sash across to allow access to the outer sash from indoors.
PlatinumNRG offer you premium quality, British designed and manufactured windows, doors and conservatories installed by our network of exclusive PlatinumNRG partners. Quite simply the best installed by the best.
New Colour Foil Finishes for Windows and Doors
PlatinumNRG are consistently looking to add to the customer experience and can now offer a new and exclusive choice of finishes for doors and windows to complement what is already a great line up of colours.
We will be adding these colour foils to our main website as soon as possible, but in the meantime if you would like to make an enquiry on any of these new finishes then please call us on 0800 6523151.
Build your PVCu Windows with our unique :
If you would like a quote for our casement PVCu French Windows, then please give us your contact details and someone will be in touch very soon. Or please call us on 0800 6523151.
Take a look through our great choices of windows, including our unique slim profile PVCu Windows, SlimSASH, our range of stunning PVCu sliding sash windows or perhaps you may be interested in the FlushSASH range, our timber effect PVCu windows.