PVCu Bi-Fold Doors
contemporary styling : quiet : slim
Our new PVCu bi-fold doors slide to allow entire facades of your home to be opened, giving the impression of almost 'living' in your garden.
Few products can offer such a dramatic transformation. When opened our PVCu bi-fold doors are slim and unobtrusive and when closed, they offer all the benefits of a modern doubled-glazed door. Open just one bi-fold panel as an entrance, or fold all of them back to draw the ambiance of your garden into your home.
Our PVCu bi-fold doors can be stacked open at one end, or at both ends, or one panel can be opened like a conventional single back door or a pair of doors. You can choose the same colour for both sides of your PVCu bi-fold doors, or a different colour for the side that faces into the room.
Build your very own Bi-Fold Doors with our unique :
Features of our PVCu Bi-Fold Doors
Low maintenance, no painting, no warping, no shrinking
Security locking system
Option of inward or outward opening doors
Thermally efficient
Low threshold option for easy access
How does it work?
The PVCu bi-fold doors system is built up using a frame in which movable parts or elements are placed in such a way that it is possible to fold up the elements to the left or right. These elements or leafs are supported and hinged to the next leaf.
The top and bottom of each leaf is supported by a roller mechanism which slides along a dedicated channel built in to the outer frame. for our bi-fold doors, there are many possible combinations of elements and opening schemes.
If you would like a quote for our PVCu Bi-Fold doors, then please give us your contact details and someone will be in touch very soon. Or please call us on 0800 6523151.
If you are interested in our PVCu Bi-Fold doors, then you may also like to see our PVCu French doors or PVCu sliding patio doors.
New Colour Foil Finishes for Windows and Doors
PlatinumNRG are consistently looking to add to the customer experience and can now offer a new and exclusive choice of finishes for doors and windows to complement what is already a great line up of colours.
We will be adding these colour foils to our main website as soon as possible, but in the meantime if you would like to make an enquiry on any of these new finishes then please call us on 0800 6523151.
PlatinumNRG offer you premium quality, British designed and manufactured windows, doors and conservatories installed by our network of exclusive PlatinumNRG partners. Quite simply the best installed by the best.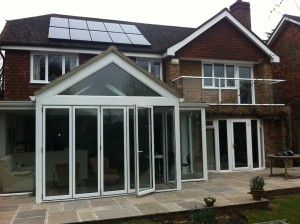 Aluminium's low thermal expansion and inherent strength coupled with precision engineering offers an alternative product suitable for both traditional and contemporary.
Our doors are designed to offer high Kitemark levels of security, construction and reduced heat loss.
All our Bi-Fold doors offer a slim profile and a vast range of RAL colours.