17th June 2014
Dark Brown Oak Doors and Windows – New Colour Mooreiche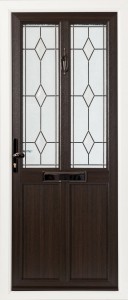 Mooreiche is a new dark brown oak woodgrain foil finish, that is exclusive to PlatinumNRG from our PVCu profile supplier.
This new colour is perfect for properties that are replacing stained timber windows, where Irish Oak is too yellow; Golden Oak too orange and Rosewood too red to match in with the facing brickwork.
In London and the South East, property developers such as Charles Church and Martin Grant Homes, over the years, have built executive detached homes that feature dark stained timber windows to match in with Elizabethan style façades. These often feature herringbone brickwork and timber beams and in properties such as these, Mooreiche is the perfect choice.
Mooreiche is available across our full range of PVCu windows and doors and can be selected on the outside only, if required, with white on the inside. Or choose both sides on a brown substrate.
Mooreiche windows and doors are becoming a really popular choice in the South East of England, purely due to the style and colour, which is exclusive to PlatinumNRG.
If you would like a quote for any of our windows and doors in the dark brown oak finish, Mooreiche, then please give us your contact details and someone will be in touch very soon. Or please call us on 0800 6523151.
PlatinumNRG offer you premium quality, British designed and manufactured windows, doors and conservatories installed by our network of exclusive PlatinumNRG partners. Quite simply the best installed by the best.