4th December 2013
Conservation Area Success for FlushSASH
PlatinumNRG's FlushSASH window has come to the rescue of a homeowner desperate to replace his dilapidated timber windows with modern performing PVCu frames. Located within a conservation area of the London Borough of Sutton, the homeowner of a 1912 'Arts and Crafts' house had been battling with the local council to approve the use of PVCu windows as an acceptable replacement. Neighbouring properties had, over the years seen their windows replaced by all forms of unsympathetic PVCu casements, which had led to Sutton Council 10 years ago clamping down on future requirements of frame material for replacements. This is an all too common problem in conservation areas across the UK. Councils eager to preserve the character and aesthetics of properties within these areas have imposed a blanket ban on PVCu replacement windows.
Recently the PVCu sector has invested heavily in new designs and styles to create sympathetic replacement windows perfectly matching old timber windows. Not only matching designs but also featuring drastic improvements in terms of lead free PVCu, security and energy saving performance. The only problem is many councils have not kept-up with these developments and have maintained their out dated views of PVCu.
This example in Sutton is typical of the problems householders in conservation areas are facing, in this case the tipping point for the council to allow PVCu was the inclusion of 'authentic woodgrain FlushSASH PVCu' in the planning application. The FlushSASH is so much more than just a woodgrain PVCu window, its whole design replicates timber and it also features a standard frame depth of 70mm.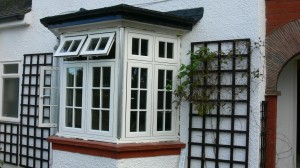 The FlushSASH demonstrates how you can maintain the look of houses or revert properties back to their existing design. For other owners of period properties in the locality and indeed other conservation areas, a precedent has now been set for future replacements.
PlatinumNRG are a company that only work with the best – highest quality products and expert fitters.
If you would like a quote for our PVCu FlushSASH windows then please give us your contact details and someone will be in touch very soon. Or please call us on 0800 6523151.