17th March 2014
Coloured PVCu Windows
Options for your PVCu windows are now far more varied and interesting. White windows are not the only option now, so why limit your decoration to just the interior of your home when you can choose coloured PVCu windows to coordinate with your home and offer a different look to what owners have chosen in the past. Find out more about our great new ColouTEK offering at www.colourtek.co.uk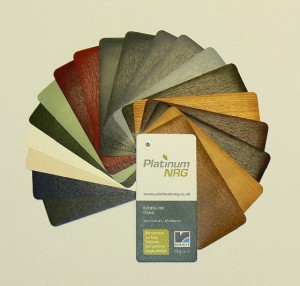 As well as all the wood effect finishes that PlatinumNRG are so proud of, we can also offer you various different choices for coloured PVCu windows. The colour choices will give a grained and more authentic look to your property, similar to those period properties with painted or stained windows. However you will have the benefit of double glazing, perhaps even triple glazing, draught free and energy efficient PVCu windows that will have very low maintenance and will last far longer than wooden windows with a similar look.
Black PVCu Windows
Black PVCu windows are really popular with older properties as they give a really authentic look – traditionally dating back to the grand Tudor and Elizabethan times gone by.
They can also, in the right property enhance the value of the house, due to the energy efficiency in what would probably be a cold and draughty property. The image here, detailing these black PVCu windows are our exclusive product, SlimSASH, slim profile PVCu windows, having larger areas of glass with slimmer frames.
Grey PVCu Windows
Grey PVCu windows will add real class to a property. They look really effective on period properties but also look great on modern houses and when there are lots of windows, for instance in blocks of flats.
All of our coloured PVCu windows are booming in popularity so take a good look through the options available to you. The image here is our unique FlushSASH, timber effect PVCu windows, giving a wonderful and traditional timber look.
Cream PVCu Windows
Cream PVCu windows are stylish and just as easy to keep clean as the traditional white PVCu windows. They look fantastic in all settings, being slightly more subtle and perhaps less startling than white PVCu windows.
They look really stunning in a country location or where there are a lot of windows. These are our traditional casement PVCu windows, shown in the image here.
Brown PVCu Windows
Brown PVCu windows take on the traditional wood effect windows, which have been popular for many years now.
They look really great in the right settings and are still ordered time and time again. As with the black PVCu windows above, this image showcases our unique SlimSASH windows.
They also look wonderful with hand crafted colour fanlights, to add extra styling to a really classic look.
Green PVCu Windows
Our Chartwell green PVCu windows, doors & conservatories also look really classic in period properties as well as giving a more subtle look for conservatories where there is a vast expanse of double or triple glazing.
This is actually a really traditional colour and looks great in any setting. This image of one of our conservatories contains the traditional casement PVCu windows.
PlatinumNRG offer you premium quality, British designed and manufactured windows, doors and conservatories installed by our network of exclusive PlatinumNRG partners. Quite simply the best installed by the best.
If you would like a quote for our coloured PVCu windows, in whichever style you are interested in, then please give us your contact details and someone will be in touch very soon. Or please call us on 0800 6523151.