21st May 2014
Chartwell Green PVCu Conservatories
These days, with many people opting to stay in their current homes and renovate, to give them more room, different living spaces or just more sunlight into their homes, conservatories are a really easy way to achieve all these options. Whether it is a small Victorian roof conservatory to the grand orangery, whatever you choose will effectively give you another room to your home.
The standard choice, historically, has been to have a flat white PVCu conservatory. However, these days, more and more customers are opting for something different – with so many styles of conservatory available, they can fit into the outside spaces around your home and will make the most awkward spaces seem light airy and spacious.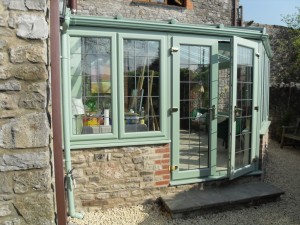 Homeowners are often moving away from the standard flat White PVCu and are often choosing a coloured wood grain foil PVCu, to emulate the appearance of timber and to soften the look and impact of a conservatory.
At PlatinumNRG we are receiving more and more enquiries for our Chartwell Green conservatories – being a lovely soft period colour that just blends in with the garden and outside surroundings superbly.
It also fits perfectly with older properties where there may be sash windows and period features. However it also looks great in newer builds, as it transforms the look of your home into a modern and contemporary feel. With many windows now in Grey, Black or Cream wood grain foils, the Chartwell Green blends seamlessly with these coloured PVCu choices.
You don't have to follow the green throughout the conservatory as you may like to have flat white PVCu or a contrasting wood grain foil inside – this is also fine and many of our customers choose this option. However our Chartwell Green does lend itself to conservatories and this is why it is proving so popular.
Take a look through our choices of PVCu conservatories – we have many designs that will enhance your home, also adding value to it.