Peace of Mind
We want to help make the process of understanding, specifying and purchasing your new windows, doors or conservatory as painless as possible. We do this by explaining what our products do in easy to understand terms and work in conjunction with our PlatinumNRG installation partners to help make the experience fun, and to offer you 'Peace of Mind'.
You may well come across a number of terms during the process – these will be explained to you by your PlatinumNRG partner. To help you along the way we have explained some of these terms and outlined how they may help you. Please view our accreditation section for further details on our certifications.
FENSA stands for the Fenestration Self-Assessment Scheme. Following Government encouragement, FENSA has been set up by the Glass and Glazing Federation (GGF) and other industry bodies in response to Building Regulations for double glazing companies in England and Wales.
When replacing windows and doors, homeowners must comply with current thermal performance standards and ensure they get a certificate from FENSA (or similar approved) or Local Authority Building Control. FENSA enables companies that install replacement windows and doors to self-certify compliance under these Building Regulations without the need for a separate assessment from Building Control.
BMTRADA Product certification provides assurance to specifiers, contractors and purchasers that products will perform to an agreed standard. BMTRADA has offered a range of certification schemes under the Q-Mark brand for building products for over 20 years.
Window Energy Ratings Certification. BFRC (British Fenestration Ratings Council), the Window Energy Ratings Certification scheme, allows manufacturers to apply to use the energy rating label (pictured right) on their products.
Conventional approaches (such as setting a glass or window U-value) simply assess how much energy a window loses. They do not take into account how much energy a window can gain.
The total energy flow in a window consists of three major components:
Thermal transmittance (U-value)
Solar factor (g-value)
Air Leakage (L50)
The British Fenestration Ratings Council (BFRC) has devised a Window Ratings equation based on values for these components. The rating is expressed as a number and is converted into a grade between A and G (with A being the most energy efficient).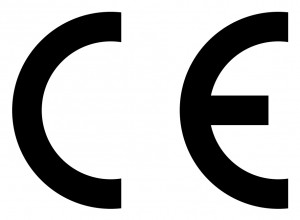 CE Marking. Under the Construction Products Regulation (CPR) CE marking has become mandatory for many construction products in the UK from 1st July 2013.
CE marking is the only way to demonstrate that a product, or system, complies with the CPR. It is a manufacturer's declaration that their product meets the minimum requirements of a harmonised technical specification, enabling them and their agents to place their product on the construction market.